Season 1, Episode 3 – "D-I-V-O-R-C-E"
November 1, 1988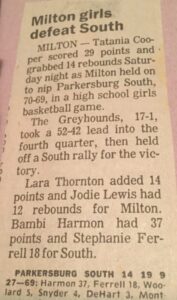 The mighty Milton Greyhounds handed a loss to Parkersburg South, 70-69, on the road. I scored 14 points to help us to the win and I have no recollection of the game. I do remember the game we played at home against Parkersburg South that season. We played during school hours, the gym was packed and we lost. During a free throw I was at mid-court (I was a point guard) and I asked the girl who was standing there with me what her name was. I have no idea why I asked her that but she told me her name was Bambi. I said, "no really, what's your name."
It was Bambi. She dropped 37 points on us in a losing effort on November 1.
My viewing of Roseanne will focus on the five senses – sight, sound, touch, taste and smell – hoping to discover a better understanding of my perception of the show.
DJ gets a haircut from Roseanne and she tells him she's 'Gotta finish cutting off this one ear here,' and brushes his ear and rubs a towel in his face in loving way.
Dan kisses Roseanne when he gets home from work. Roseanne slaps Dan to put on a tie because they are going out, even though he is whining not to.
Getting ready for her date, Roseanne shuffles Darlene out of the way so she can put on her earrings. Darlene puts on Roseanne's dress shoes and Roseanne moves her out of the way. Roseanne tells Dan he looks cute and then pulls off his clip-on tie, they wrestle the tie, pushing each other. Dan kisses Roseanne's arm, promising her she's the only bimbo in his life.
Roseanne kisses and rubs Darlene's head, then DJ's – with toss of his hair – and tells him if both his sister's are dead, he's in charge. Dan helps Roseanne with her coat.
On the date and the Lanford Inn, Dan puts his arm around Roseanne and snaps her hand when she reaches in awe for the fancy decorations. Dan and Roseanne snap hands at dinner, they constantly slap and nudge each other.
A friend, Patsy, comes to their table to chat. Roseanne wants to be a writer which was an inspiration for Patsy – she touches Dan's shoulder as she leaves. Roseanne tells Dan she loves him.
Dan puts his arm around Roseanne as the hit the dance floor cheek to cheek, ending the scene.
Roseanne and Dan return home from their date to see Jackie and DJ asleep on the couch, touching feet. Roseanne and Dan shake hands and walk arms wrapped around each other to bed.
At home during the date, Darlene picks up DJ and puts him on the counter with heating pad instructions, holding his hand.
Dan and Jackie have a beer. Darlene drinks a strawberry soda. Dan asks to see the wine list and orders a beer while waiting, Roseanne orders a tropical drink. The two have food from the buffet and Roseanne says, it's fightin' that keeps a marriage together. Roseanne drinks wine. Roseanne wants coffee and refills everyone's coffee. Dan and her eat dessert.
At home, Darlene attempts to make popcorn with a heating pad and the popcorn is in an aluminum plate. Darlene eats something off the counter, licking her fingers.
Becky is put in charge when Jackie doesn't show to babysit which elicits loud cheering and celebration from Becky and Darlene. Roseanne tells them to settle down. Dan drops spoon (a loud noise) to spy on Patsy across the room. The phone blaringly rings and the doorbell rings. Jackie yells from the front door. Jackie sneaks in the house and screams, scaring the children into a screaming, laughing fit to close the scene.
The only reference to smell came when Dan put on cologne – by tossing it in the air and walking under it.
Additional notes:
50 second intro – hiss laugh
Dan is visibly sweating.
Dan doesn't dance.
There are flamingos on the shower curtain.
I laughed out loud when Roseanne told DJ he could be in charge if both his sisters were dead.
Roseanne actually laughed at Dan when he orders a beer to look over the wine list.